She captured the hearts of Aussie's across the country with her flawless looks, kind heart and genuine personality, as well as bagging her dream man in the shape of former cricketer Cam on the most recent season of Married At First Sight.
But despite her confidence and gorgeous nature, Jules Robinson continues to receive downright vicious comments from social media trolls who criticise her appearance and personality.
The beauty business manager has opened up about the online abuse she's been receiving, deeming her "fat" and a "fraud".
In a series of messages obtained by KIIS, the alleged trolls go as far as to send the 37-year-old pictures of "distorted elephants" with the caption "Your future kid".
Unfortunately, the comments don't stop there.
"Your [sic] a fraud. F*** off julsey jules and get in the real world," they write. "I rest my case. You fat b****… Get out the flour. Fat c***"
"It's scary how he/she hates me so much," Jules admits. "I've come to the conclusion that person is an actual troll."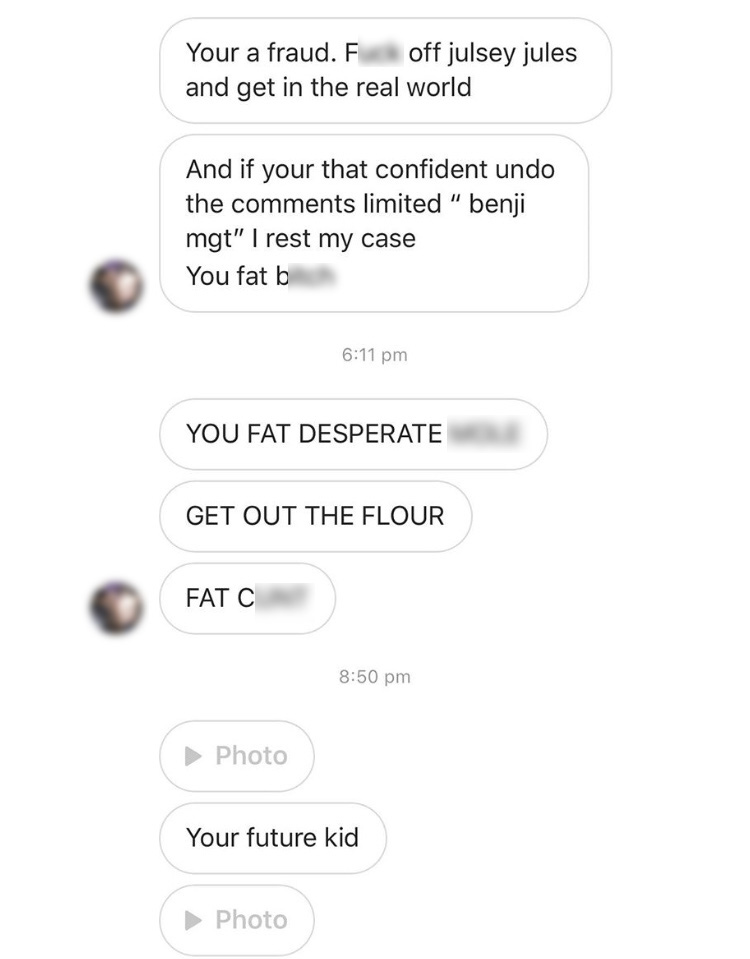 The flame-haired beauty revealed that over the past two months she's frequently received messages about her appearance, including personal emails from women criticising her weight.
She highlights the fact that despite their roles as public figures, reality show stars are "not made of steel".
This is particularly evident in the recent suicide of Love Island star, Mike Thalassitis.
His body was found "in the woodland area" near his home in Essex, and came just months after his best friend Danny Cutts' passing.
If you or anyone you know is suffering, please contact Lifeline on 13 11 14.