Animal protection group PETA has urged Aussie rockers Hunters & Collectors to change their name.
Reason being is to "discourage people from hunting animals".
The band, fronted by singer-songwriter Mark Seymour and is best known for the hits 'Holy Grail' and 'When The River Runs Dry' has had the name since forming in 1981.
"We feel sure that it was never your intention to promote the killing of intelligent, sensitive, and defenceless animals, but your name may nevertheless make hunting seem appealing to your fans," Ashley Fruno, PETA's associate director of campaigns, wrote.
"Nearly 300,000 Australian waterbirds face an agonising death during hunting season, which opens in Victoria and Tasmania next week and is already underway in South Australia.
"As your Adelaide reunion show is coming up, now is the perfect time for a band namelift."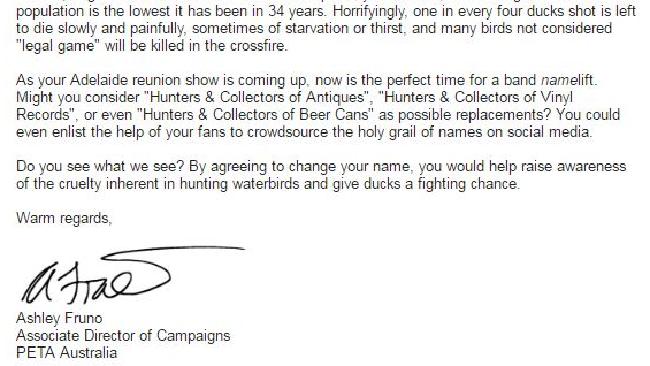 She said that changing the band's name would "help raise awareness of the cruelty inherent in hunting waterbirds and give ducks a fighting chance".
No word if they've contacted Hunters + Collectors, the Perth furniture store.
Hunters & Collectors, the band, are yet to comment.
news.com.au