To quote The Veronicas, 'Cause I can't wait, wait, wait any m-more, more, more', well they could wait because it's been six long years since we've seen the duo tour nationally.
In case you've been living under a rock for the last 20 years, Lisa and Jess Origliasso are The Veronicas, aka Australian pop legends. With chart success around the globe including double Platinum status in the USA, they've had nine top 10 hits in Australia including three #1s, several multi-platinum singles including Hook Me Up, You Ruin Me, Untouched and In My Blood, over half a billion streams, 175 million YouTube/Vevo views and 3.5 million social connections.
It's time to warm up your oohs and aahs because they're bloody going on tour for the first time in over six years.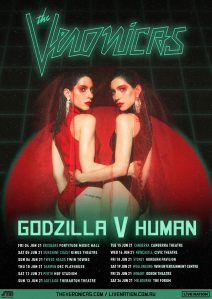 GODZILLA V HUMAN is their new show and it hits stages from June 4. In a month-long tour, they're set to raise the roof in 12 cities with their promised 'most spectacular concert yet!'
The Veronicas are excited to be re-connecting with their fans, saying: "Touring live is the greatest energy hit. Transforming from a dance party to emotional sing-a-longs, we've missed it so much. We can't wait to be back on stage with you all again."
You thought that was all the news? WRONG! They're also dropping two new albums, GODZILLA and HUMAN which are available for pre-order now. The track Godzilla is available to stream now.
The concert will be split into two parts, GODZILLA and HUMAN, which captures the two different sides of the sisters. They will be performing their new music and also their classics so you're bound to love absolutely every part.
Live Nation members can grab their tickets here during the pre-sale from 11:00am on Monday, March 29. All tickets go on sale at 12:00pm Wednesday, March 31, here.