Oh so now it's 'normal' to spike your hot chocolate, could someone tell my local coffee shop that. Prancing Pony Brewery in the Adelaide Hills is here to spice up our hot choccies with their new Gin Hot Chocolate.
Looking like heaven in a cup, the gin hot chocolate comes with a heafty topping of whipped cream, chocolate shavings, a mini pretzel and a mint leaf.
Everyone is simple estatic about this new beverage with Prancing Pony posting the announcement on Facebook saying, "Here is something to warm you… a gin hot chocolate. I am the official taster of all the cocktails (lucky me).This is the before pic it's soooo good. We are officially all ready for tomorrow."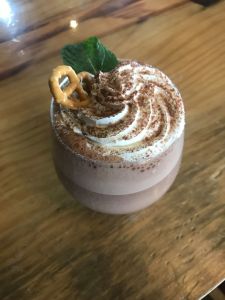 People are obviously going wild for this announcement with the post racking up more than 600 comments. We can't wait to head over and give it a try!
View this post on Instagram
Pop over to Prancing Pony Brewery is located at 42 Mt. Barker Road, Totness and keep up with their crazy releases here.