You can never get enough of a good thing and once again hot cross buns have been re-invented, this time into delicious, buttery, flakey, fruity, spiced…yummm…
….croissants.
The genius creation of the Hot 'Cross' Buns can be found at Mascavado on Hutt St in Adelaide.
The pastry buns have cross icing on the top, giving it the authentic hot cross bun look, and filled with mixed dried fruit and spices. It's topped off with a Frankincense glaze to really capture the hot cross bun feel.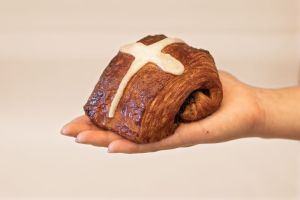 The buns are available now with Mascavado saying "Spiced, fruity and flakey. Welcome to add more butter, we won't judge. From this Sunday onwards."
Head over to Mascavado at 175 Hutt St, Adelaide and stuff yourself silly.