South Australia's pride and joy (other than Farmer's Own) FruChocs have announced some MAJOR news that has shaken us to the core.
They're releasing a white choc raspberry flavour!
*Pause for standing ovation*
Yes, yes we know. The tier 1 of chocolate is bringing out a new flavour and honestly, we are ecstatic.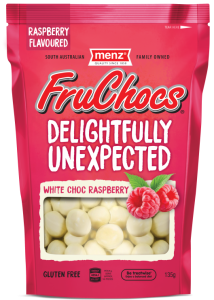 FruChocs are known for their apricot inside and this new flavour isn't taking that away. The scrumptious apricot filling will be mixed with a sweet, natural raspberry flavour which is then covered in a decadent white chocolate shell.
You can get your hands on these goodies for $4.20 at Coles SA stores, The FruChocs shop (online aswell). They will appear at Drakes, Woodland, IGA, On The Run, X-Convenience, Liberty, Tip Top, BP AM_PM and Cheap as Chips by the end of June, with SA Woolworths stocking it from August.
The CEO of Robern Menz, Phil Sims, was excited to announce the new flavour launch saying, "This brand new, gluten free fan favourite will arrive in time for both FruChocs Appreciation Day in late August, and World Chocolate Day in July, so South Australians can celebrate these annual festivities the right way."