TeeVee Snacks have just gone and dropped a huge range with Krispy Kreme which could possibly be the best collaboration since they combined chocolate and milk.
When did this happen and why were we not alerted about this sooner!
The new 'dough-scuits' dropped today, inspired by the classic Krispy Kreme flavours and are adorably shaped like little doughnuts! The mini-biscuit doughnuts come in 5 ultimate Krispy Kreme flavours, including Original Glazed, Caramel Delight, Choc Iced, Kookies & Kream and Strawberry Sprinkle.
Krishma Sood, Arnott's Brand Manager says, "teeVee snacks are a classic, well-loved Australian biscuit and we're thrilled to partner with Krispy Kreme to add a new twist to this iconic treat."
"With a range inspired by some of Australia's most popular doughnuts, this new generation of "dough-scuits" is the collaboration teeVee snacks fans have been waiting for!"
All major grocery shops are selling the boxed goods for $4 and we can't wait to try all the flavours, particularly the Original Glazed which are glazed with a sweet vanilla icing which is carefully drizzled on top.
The Strawberry Sprinkle also take our fancy with sweet strawberry icing and topped with crunchy rainbow sprinkles.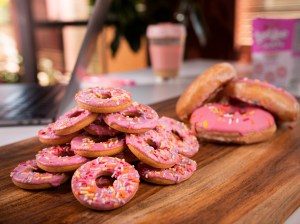 Literally run, don't walk to try these delicious dough-scuits!