Whether it's afternoon catchup with friends, a Sunday morning tradition, or a quick lunch break, bakeries are an Australian way of life.
So what is the best bakery in Adelaide south?
The Advertiser put out a vote to the Adelaide community to determine where you should be scoffing your face with fresh caramel slices and salad sandwiches.
And the results are in with Clarendon Bakery taking the cake. The iconic country-style bakery is located in Adelaide's south with a loyal customer base.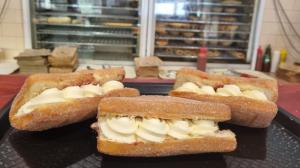 Without any social media accounts, which is somewhat abnormal in this day and age, Clarendon Bakery is keeping things traditional and simple which has created a cult following through their delicious baked goods and customer service.
Owner Nathan Gelencher said "For us it's all about our customers, the Clarendon family if you will," he said.
"We're passionate about what we do and what we create but that's just one part of it, it's also about the customer's smiles, being a meeting place for the community and having that country feel.
"We sell old school style cakes and buns that your parents would've grown up with rather than some of those newer flavours like nutella and salted caramel."
So simple and traditional seems to be the way to our hearts, not the razzle-dazzle and flavour explosions that seem so popular.
What's your favourite bakery in Adelaide?