The Festival of Sausage In Bread is heading to Tasting Australia and never have I connected more with a food festival.
Tasting Australia is in full swing with incredible food stalls available in Town Square, drool-worthy tasting sessions and masterclasses where you can learn the art of your favourite cuisine.
But (in my opinion) the pinnacle of Tasting Australia is The Festival of Sausage In Bread which is being held on May 7. Apart from calling it 'sausage in bread', of which we all know it should be called the 'ultimate sausage sizzle festival' or 'festival of sausage sizzle'… I'm still brainstorming it, but never sausage in bread.
The ultimate sausage sizzle explores the 'culinary breadth' of the humble snag, from the 'Argentinian choripan and South African boerewors to the Thai "sai ua" and Scottish square sausage (not to mention English bangers, German bratwursts, American hotdogs, and Serbian cevapcici)'.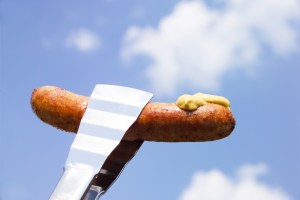 And really, what's a sausage in bread without a bit of sauce and onion? The festival will have plenty of sauces, onion, relish, mustard and sauerkraut options.
There are 10 gourmet sausage options including Choipan Chorizo, Eggplant Vego "Sausage", Beef Cevapi, Lamb Truffle Parmesan Democracy Sausage, and the always enticing Mystery Sausage.
The 10 gourmet snags are hitting the BBQ in two sessions, 11:00am – 2:00pm and 5:00pm – 8:00pm and are being held at the University of Adelaide's Cloisters. It's open to all Adelaide Uni staff, students and of course the general snag-loving public.
It's free entry, but the 10 gourmet sausages are going for $5 a pop, of which proceeds are going towards the support of Adelaide University students.