We're 2 days away from Freedom Day and 1 week away from what could be the tastiest Weekend Brunch you'll ever have in your life.
From Friday 15th of October, Master of Mixes and The Big Easy will be hosting a Tasty Toob themed big brunch menu to you can roll around in all the crispy, toob-y nostalgia you desire.
With 2021 seeing the return of the cult snack, The Big Easy are jumping on the bandwagon with a feast, pairing up with Master of Mixes to provide the perfect cocktails to match.
The disgustingly indulgent menu includes the 'Toobs TLC', a Louisiana fried chicken coated in a Tasty Toob crumb and a Master of Mixed 5 Pepper glaze, topped with maple bacon, double American cheese, aioli, breand and butter pickles and of course a flourish of Tasty Toobs for that extra crunch between a potato bun!
We're already rolling with the chips so forget a side of fries and dive into their 'Toob-Tots', deliciously crispy and fluffy tater tots topped with Tasty Toobs, candied bacon, nacho cheese and dusted with tomato powder.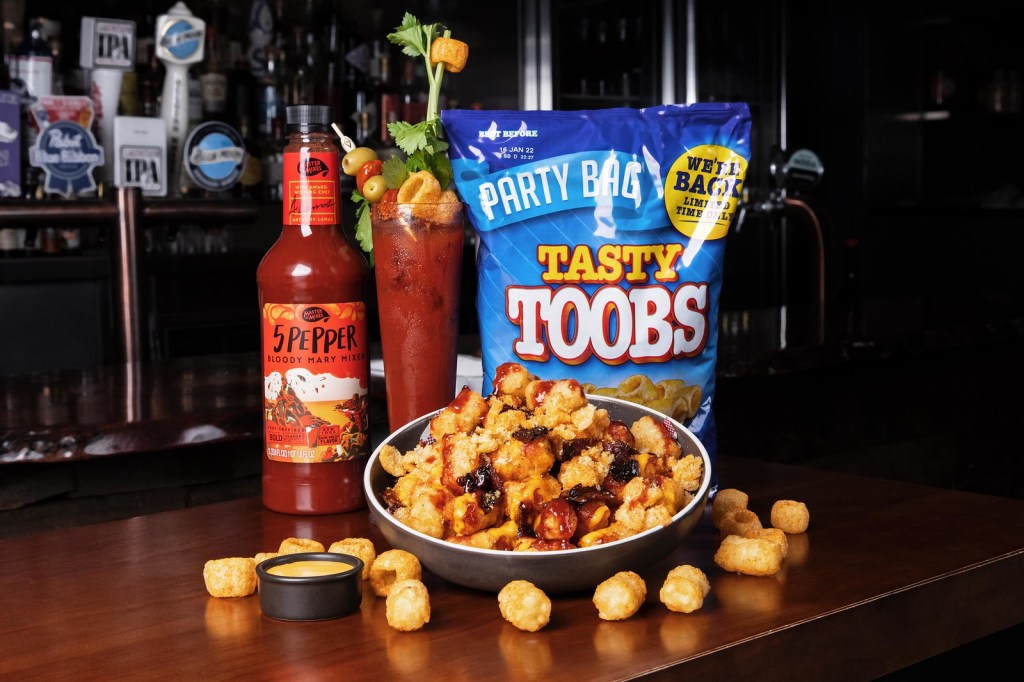 After that glorious carb overload, you need to finish on a sweeter note.
The 'Boozeymisu' cake is a classic tiramisu-inspired dessert with vanilla genoise, mascarpone, cream, and chocolate all laced with Master of Mixes Espresso and Mr. Black Espresso Liqueur for that extra POW!
You'll be able to enjoy the whole brunch menu for two, for $75!
Available in the cafe from the 15th of October, you'll also be able to pick-up and takeaway.
The menu is limited edition so make sure you head in there as soon as (the state lets you!)
The full run-down of the menu is below:
Brunch Menu for two (2x Burgers, 1x TOOB-tots, 2x Cocktails, 1x Boozeymisu Cake): $75
TOOBS TLC Burger: $18
TOOB-Tots: $14
Mastered Mary Cocktail / ' Spressi Marts Breaking Hearts Martini Cocktail: $15 or 2 for $25
Boozeymisu Cake: $14
Opening hours:
● Freedom Day (Monday, October 11th): 12pm – l ate
● Tuesday, Wednesday & Thursday: 5pm – l ate
● Friday: 12pm – l ate
● Saturday: 12pm – l ate