Our mumma's deserve the best and what's more of a treat than a high tea at Adelaide Oval's award-winning restaurant, Five Regions Restaurant.
Five Regions Restaurant has created a decadent and delicious high tea for your mum to indulge in this Mother's Day, Sunday 9 May at 2:00pm.
The world-class culinary team at Oval Hotel are putting on a spread featuring the best of South Australia's winery regions and local produce, all topped off with a *chefs kiss* view of the Adelaide Oval and free-flowing G.H Mumm champas!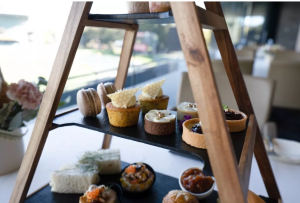 "We've taken the classic Mother's Day high tea and put our own Five Regions spin on it," says Oval Hotel Food and Beverage Manager, Martin Wilson.
Capturing native flavours, the high tea will include wattleseed macarons, Spencer Gulf crab pikelets, Woodside goat curd and warrigal green quiches.
"Every treat on the menu has been carefully crafted just for Mum," Wilson says.
"It's a little different and more decadent that your average high tea; We know she's going to love it!"
Tickets are on sale now for the Five Regions' Mother's Day High Tea for Sunday 9 May. Get your tickets here.