A brand spanking new festival is hitting Adelaide streets, lighting up the city after dark. The new winter festival, Illuminate Adelaide, will be kicking off in July. Yes, in the heart of winter. But it's sure to impress so just chuck on some thermals, bring yourself a thermos of hot chocolate and enjoy the sights.
With light, technology, music and art it will light up the city, bringing some much-needed energy in the bleak winter.
Illuminate Adelaide will feature a 2km trail of light installations in the Botanic Gardens including projections, lasers and audio effects and giant animals will be lit up at the Zoo. There will be a concert, talk, exhibition and DJ set by The Avalanches, just to name a few.
There will be 150 light installations, performances and events throughout the festival and all lights are on from July 16 to August 1.
The full program of events will be released in May, but here's what we know will be on so far.
Light Cycles, Botanic Gardens, July 15 to August 1
Moment Factory, a Canadian multimedia studio, utilises popular artists' music to create a stage show using light, sound, video and special effects to capture the voice of the natural world.
The Avalanches, Entertainment Centre, July 30
The Australian duo, Robbie Chater and Tony Di Dlasi, will be putting on an amazing live show with new arrangements of their album 'Since I Left You' accompanied by the Adelaide Symphony Orchestra.
Light Creatures, Adelaide Zoo, July 8 to August 1
The Zoo is bringing in some new animals this winter; new giant, illuminated animals. With a huge skink, giant pandas, giraffes and underwater life including fish, jellyfish and coral, the Zoo will be pumping with interactive effects from Kaurna and Narungga man Jack Buckskin, Anangu artist Elizabeth Close, Melbourne designers A Blanck Canvas and animation studio Monkeystack.
City Lights, CBD, July 16 to August 1
The CBD will be illuminated from top to bottom with more than 40 sites included in the festival.
Embrace the cold and explore the city, but not as you know it. For 17 nights we'll flick the switch and transform our city's streets, laneways and open spaces into a nocturnal playground of projections, imagination and light.
This free light trail will span the city and bring together local, national and international artists and innovators to present cutting edge works on a scale Adelaide has never seen.
Van Gogh Alive, 88 O'Connell St, from June 23
The beautiful works of Vincent van Gogh come to light in the multisensory, multiscreen immersive experience. Touring more than 60 cities around the world, this is sure to be an incredible show.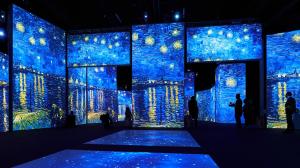 For more information, head to Illuminate Adelaide's website.