NO NO NO! This cannot be a thing and shouldn't be a thing! The Roadkill Recipe cookbook features dishes such as 'Skippy the Bush Vindaloo' to 'Tasmanian Kidney Deville'.
NOT SKIPPY!
Yes, this is actually a thing, but it's not as it seems.
Wrong Side Of The Road has published two cookbooks; 'Roadkill Recipes – A Cookbook for Visitors to Kangaroo Island' in 2006 and 'Roadkill Recipes: Australian Wildlife on the Verge' in 2008. The names alone, make you want to hurl, but just hear us out.

The books are actually a satire, emphasising serious conservation issues and road safety messages within the book. Perhaps a rather forward approach to the serious issues, but it definitely catches your attention.
Upon the boost of tourism at Kangaroo Island, the founder of Wrong Side of the Road, Patricia Leeuwenburg, and her husband, rural and remote GP on Kangaroo Island, Tim Leeuwenburg wanted to educate and highlight the deadly impact of tourism on our native animals. Particularly the less considered species such as the goanna, echidna and bandicoot.
Although the recipes aren't actually real, the thought of them is HORRIFIC. They've listed recipes such as Pepper Roo Penis, Leg of Roadkill Roo and Sauteed Cane Toad Legs.
The release of their second 'Roadkill Recipes' book is tailored more to Australia-wide roadkill and the larger variation of wildlife killed on the road.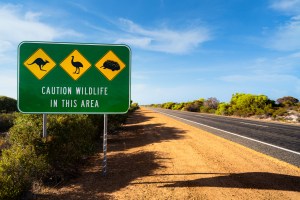 Roadkill is definitely a slap in the face whenever you're on a road trip, but often we notice and pass by without a thought. "The beautifully photographed books address the confronting issue of roadkill, highlighting conservation and road safety whilst satirising glossy cookbooks and foodie travel."
The contribution of the sales from the Roadkill Recipe Books is directed to various conservation and road safety projects. You can purchase a book and horrify your friends with it here.