It's been a big year for our AFLW Adelaide Crows, but they've done it. They've made it to the grand final despite last year's season being cancelled due to COVID-19. And Adelaide is hoping to make up for lost time as they aim to fill Adelaide Oval once again for the AFLW Grand Final.
Adelaide Crows will host the Brisbane Lions at Adelaide Oval on Saturday at 1:30pm. The last AFLW final held was in 2019, when the Crows took the premiership in front of 53,034 people. This year, fans and players are hoping for the same turn-out.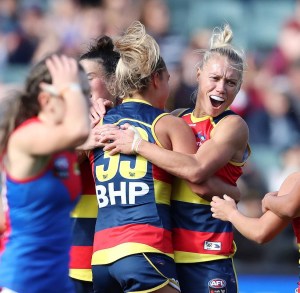 The grand final has been given its own time slot on Saturday in the hopes it will allow for the biggest turnout and viewings on television. The game will be available to watch live on Channel 7, Fox Footy, Kayo and the AFLW app.
Adelaide Crows members can secure their complimentary tickets via Ticketek at 3:30pm on Tuesday, April 13. While General Public tickets will go on sale at 4:30pm Tuesday, April 13.
It is a bittersweet moment for the Crows as their skipper, Chelsea Randall, suffered a head-on collision with Melbourne Demon's Eliza McNamara which ruled Chelsea out of the game with a suspected concussion.
Earlier in the year, the AFL implemented a new rule for players who were concussed are to miss a minimum of 12 days of football. If Chelsea's suspected concussion is confirmed, it will mean the captain will be forced to support her team from the sidelines and unable to take the ground.
Regardless, we are super proud of Chelsea, the Adelaide Crows and our very own Erin Phillips! Let's go Crows!