Mitcham Council has been revealed as Adelaide's coronavirus hotspot, in a new heat map released by the State Government.
The maps reveal in which council areas people with confirmed cases of COVID-19 are living.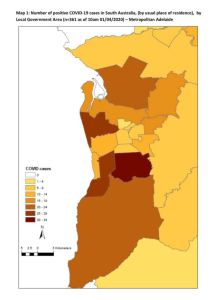 The news follows a trend in Australia's eastern states, where a majority of cases have been occurring in Sydney and Melbourne's wealthier suburbs.
Mitcham has between 30-34 confirmed cases, while the Charles Sturt and Marion council areas have 25-29 cases each.
No metropolitan Adelaide council is virus-free, however, many regional councils continue to have no confirmed cases in their area.