It's time to whip out the acid wash denim, scrunchies and tube tops (which are now considered cool again) because The Myer Centre in Rundle Mall is throwing a huge 10-day '90s party!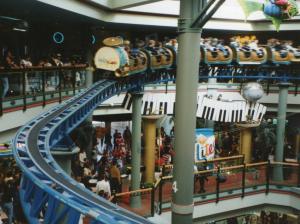 Remember when Myer had a literal rollercoaster in it! Well, they're not bringing that back because surely that's an OH&S issue but they are going back to their roots by holding a bunch of '90s games, music and fashion shows, with plenty of prizes to be won.
To celebrate their 30th birthday, on Friday June 4th their 10-day '90s party kicks off. They'll be hosting two fashion shows to take us back to "everyone's favourite fashion decade". In their announcement, expect to see "scrunchies, tube tops, combat boots, crushed velvet, and mum jeans — we'll be paying homage to the key trends."
They've got a vintage milkshake bar with your fave '90s toppings and you can grab a free shake when you spend over $50 in-store. More of an arcade player? Hit up the claw machine to win yourself discounts, and you can even go in the draw to win yourself $1,000!
If you're a quiz-master and a fan of the '90s, this could be right up your alley. "Introducing Fo Shiz: the '90s quiz! If you're all over your Seinfeld quotes, mad about Madonna and could pick Jonathan Taylor Thomas out of a line up from 30 feet away, this could be your time to shine. Hit up our '90s pop culture quiz for your chance to add some dazzle to your wardrobe! The winner will be announced 30 July 2021.⁠"
Keep in the loop with Myer's happenings here.