For those who have had the good fortune of travelling to the Flinders Ranges in winter know that it gets bloody cold.
But thick blankets of snow is not a sight we typically see in a South Australian winter.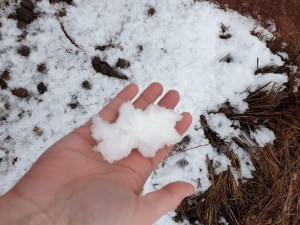 So when residents and visitors at Wilpena Pound Resort woke to a cold morning today, they would have been more than a little surprised.
Long-time Hawker resident, Adnyamathanha Elder Pauline McKenzie said it was the first time she'd seen snow on the ground, covering the ranges.
"The last time it snowed here was back in the 1980's, but it wasn't anything like this" Ms McKenzie said.
Snow is forecast to continue until Saturday, offering visitors a rare chance to come to Wilpena Pound Resort and see the snow in the Flinders Ranges.