So you can actually rent a can of fresh, crisp Tassie air!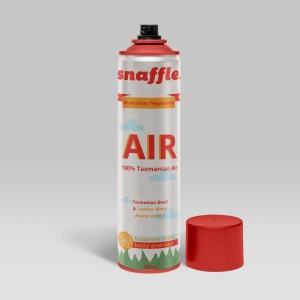 Tasmania has had a pretty rough trot. They're like the cousin that no one really likes, but we tolerate them because they're family. And this new product really isn't helping their case.
The appliance rental retailer Snaffle are offering the 'opportunity' to rent a bottle of the purest Tasmanian air. As a way to 'help clear the air and bring more balance to all areas of life.'
With scents of Tasmanian Devil and Leather Wood flower aroma, it is said to neutralise negativity, balance mind, body and soul.
Hannah Hokarari, Snaffle's intrepid social ambassador, bottled several jugfuls of the freshest air while guiding white-water rafting trips down Tasmania's rugged Franklin River.
Snaffle CMO Paul Winslow said 'We believe Australian families should be able to breathe a sigh of relief when they arrive home – not the smell of last night's dinner or the armpits of a seldom-seen housemate.'
'Snaffle Air provides the cleansing solution to these pungent problems. Along with our more traditional products, it makes any house a home.'
Snaffle Air is processed and bottled at the company's sparkling new Launceston facility. This innovatively refreshing product is available exclusively for rent via the Snaffle website for $19.95 per month.
I mean…this has to be a joke right?
Well, it is. April Fools!
Snaffle, the absolute comedic genius', got us GOOD! For today only, they're offering $100 off any contract if you use the code 'FRESHAIR100'. Get all the details here.
And if you really wanted a can of fresh Tassie air, maybe go outside for a little bit…